Step 1 : Setup an InfoBip Account
In order to set up an InfoBip connection for purpose of message sending and receiving, you will need an account with InfoBip. This can be done from http://www.infobip.com.
Once this is done, you will need to note down your InfoBip username, password and any purchased phone numbers since you will need them later on in the connections setup.
Step 2 : Open the Connections page on FrontlineCloud.
Log in to FrontlineCloud and click on the settings button to view the settings menu. Click on 'Connections' to go to the connections page. When in the connections section, click on 'connect to mobile network'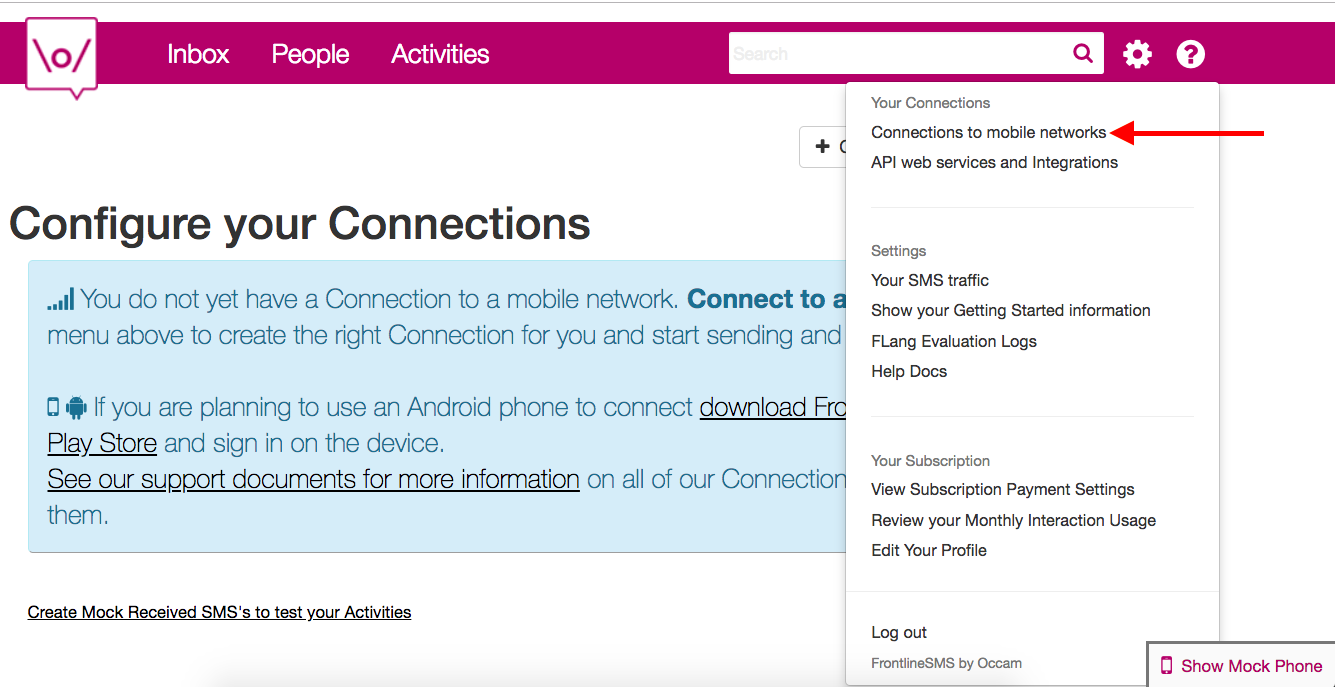 Step 3: Add an 'InfoBip Connection'.
When the connection selector form is launched, select 'InfoBip connection' to go to start setting up your InfoBip connection.
Step 4: Enter your 'InfoBip' credentials.
Setting up your InfoBip connection will involve providing the following pieces of information.
Connection name. This is the prefered name you would like to give to your connection.
Username : This is your InfoBip account connection username.
Password : This is your InfoBip account connection password.
Phone Number : This is one of the phone numbers purchased through InfoBip to serve as an SMS id when messages are sent out. If you don't have a phone number purchased please use the default SMS id provided by InfoBip. Messages sent from FrontlineCloud through InfoBip will appear as having been sent from the phone number or sender id entered in this field.
Once you have entered the information above, click the save button to finish creating your InfoBip connection.
Step 5 : Set up the callback (message receiving) url
After saving this connection, you will need to inform InfoBip support or your account manager about the call back url through which FrontlineCloud will be receiving incoming messages from.
Whenever InfoBip receives a message, they need to forward that message to this url. This url can be found on the connections list below the recently saved InfoBip connection as displayed below.