Viewing All Message Schedules
Once you have created your scheduled messages, you need to be able to manage them. This can be done by clicking on the "Manage SMS Schedules" available on the left hand menu in the inbox.

The "SMS Schedules" page will list all your scheduled messages and allow you view, edit and disable them.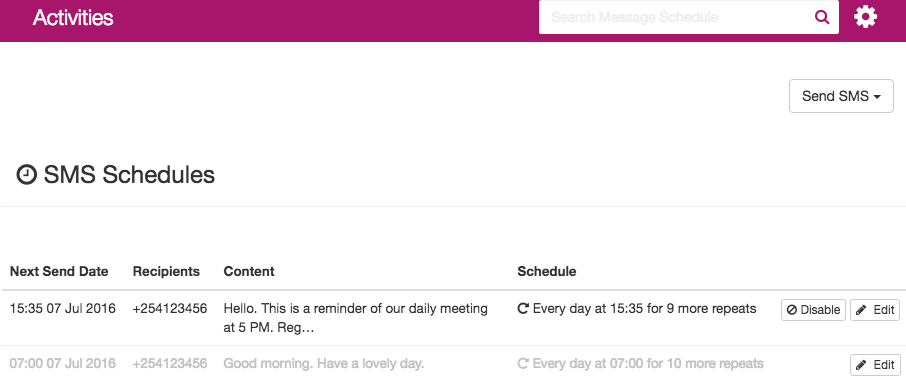 Message Schedule Detailed View
To view the details of a message schedule, click on message schedule you are interested in from among the list of available message schedule. Details of both enabled and disabled message schedules can be viewed in the same fashion.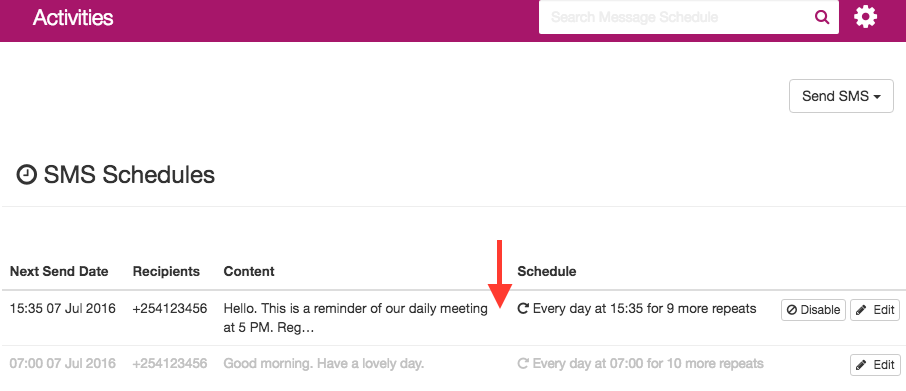 Pictured below is how the detailed view of a message schedule looks like.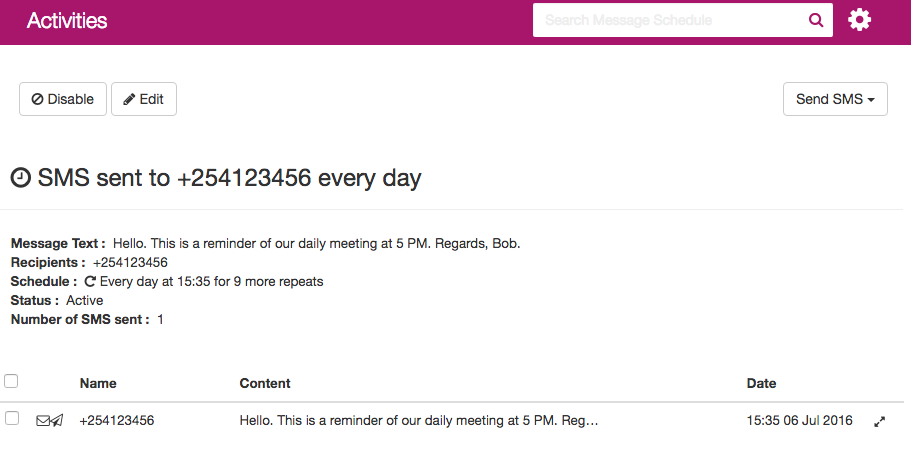 The detailed view shows the message schedule attributes and a list of messages sent out by the schedule. The screenshot above shows that only one message has been sent thus far by the recurring message schedule. It is possible to view more information about the messages by clicking on them.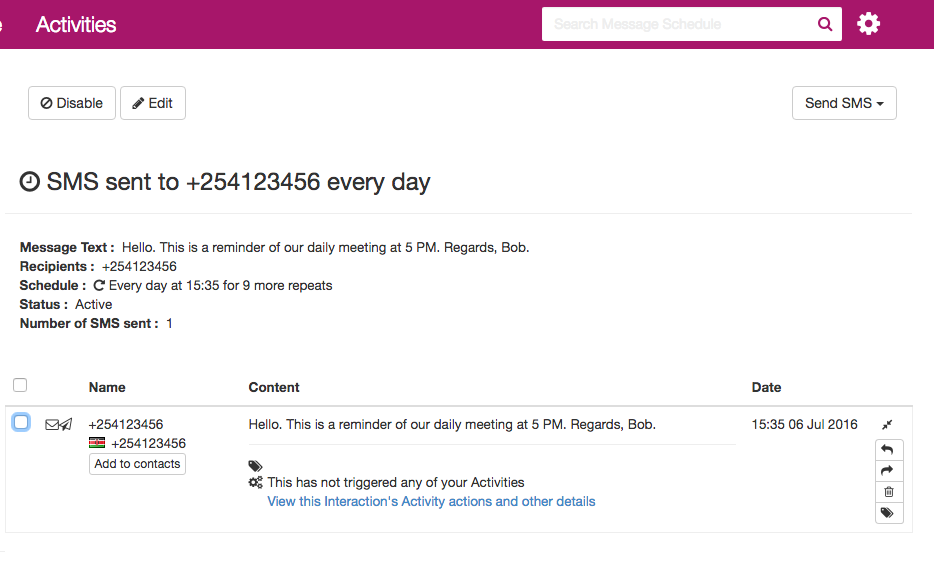 Editing SMS Schedules
To edit an SMS Schedule click on the "Edit" button that coincides with the schedule.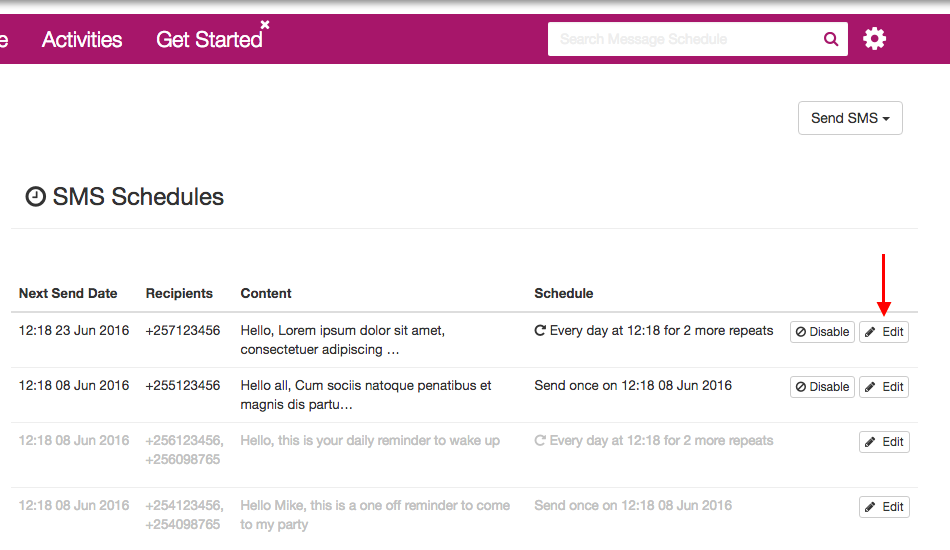 Editing an SMS Schedule allows you to change configuration values e.g. the message text to send out, the frequency with which to send it out, the time to send it out and the recipients to whom to send the message to. But it does not allow you to change the type of schedule. For example, if you had initially scheduled a message to be sent once (one off scheduled message), then you cannot change it to send out every day at time X (recurring scheduled message). You would have to create another SMS Schedule to achieve this.
As you can see below, you cannot change a one off schedule to a recurring schedule. The "Schedule as recurring SMS" tab is not available.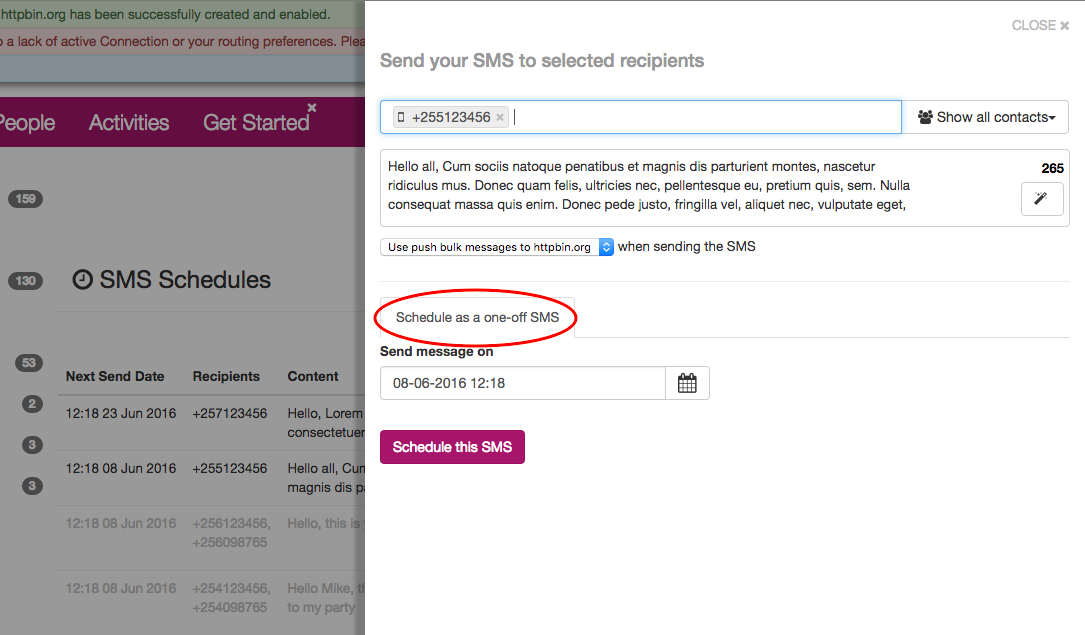 As you can see below, you cannot change a recurring schedule to a one off schedule. The "Schedule as as one-off SMS" is not available.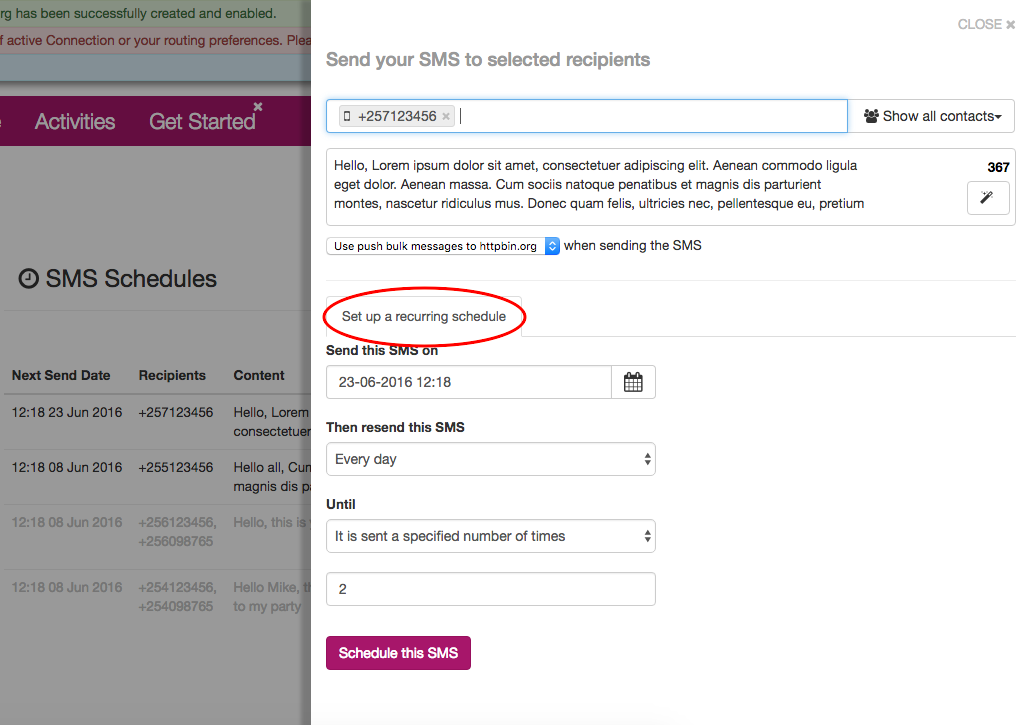 Disabling SMS Schedules
To disable an SMS Schedule click on the "Disable" button for the SMS Schedule you wish to disable.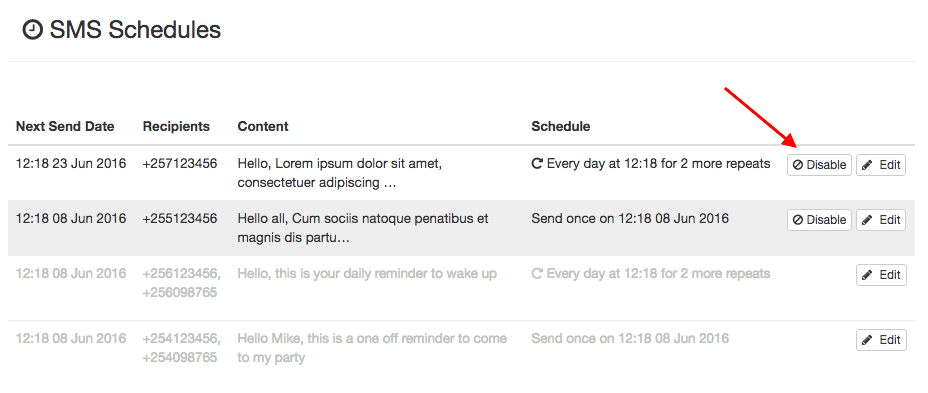 A disabled SMS Schedule will not create messages to send in the future.
An SMS Schedule will also be disabled automatically when it has completed its lifecycle. For example, a one off SMS schedule will disable itself once the single message created to be sent in future has attempted to send. Likewise, when a recurring SMS schedule is no longer valid e.g the end date has reached or the number of send attempts have been exhausted.
Re-enabling an SMS Schedule
To re-enable a disabled message schedule, you would need to edit the SMS schedule and save it.