This article will help you connect your Nexmo account to FrontlineCloud. If you need assistance on how to register for a Nexmo account, please see Registering for a Nexmo Account. Once you've done that, you are ready to connect!.
Step 1: Open the Connections page on FrontlineCloud.
Log in to FrontlineCloud and click on the settings button to view the menu. Then click on 'Connections to mobile networks' to go to the connections page.
Once you are on the connections page click on the 'Connect to a mobile network' button in order to reveal the Connection's Selection Form.

Step 2: Add a 'Nexmo Connection'.
When the Connection Selection Form is launched, select 'Nexmo connection' to go to the next form. Which looks as follows.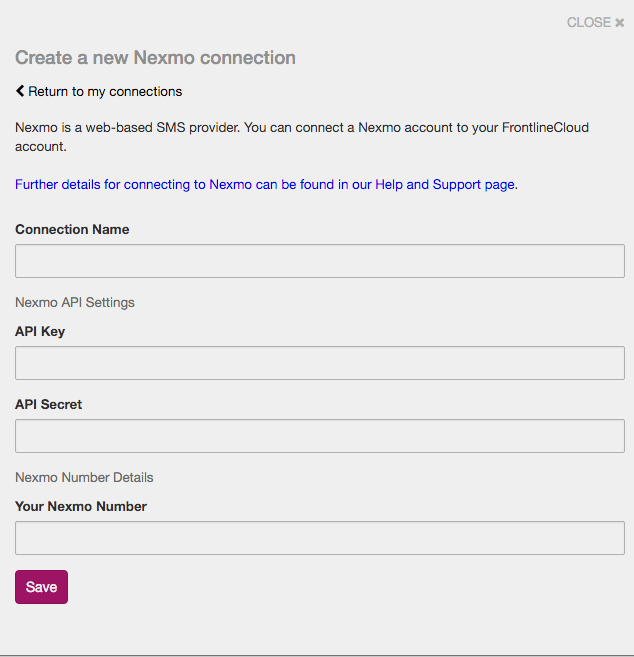 Step 3: Connect to Nexmo
The form above requires the API key, API secret and your nexmo number. You will need to login to you Nexmo account to get these credentials. These values are available from https://dashboard.nexmo.com/settings at the bottom of the page in the API settings section. See image below for reference.

After supplying the API key, API secret and Nexmo number, click the save button to complete the process of creating your connection. When your connection is successfully created it will appear as below.

Step 4: Setup the callback url for incoming messages
If you have purchased a number with Nexmo, then incoming messages sent to this Number can be forwarded to FrontlineCloud. This can be done by setting up the "Callback URL for inbound Message" in the Nexmo dashboard under https://dashboard.nexmo.com/settings See the image with API settings in step 3 above for illustration on where this callback URL will be put.

Still in step 3 above, the image with "Configure your connections" illustrates where you can get the callback url to put in "Callback URL for inbound Message" section in Nexmo.
Ensure that you save your changes in Nexmo.
Step 5: Test your connection
When everything has been successfully set up. Test that your connection is able to send and receive messages.

Test sending by hovering over your newly created connection and clicking on the "Send test Message" button. When your message is successfully sent the connection will remain green and the sent test message will appear in your inbox under the "SMS Sent" section.
If your connection is not working, it will have a red dot put against it. A notification will also appear telling you the problem that is preventing your connection from working.

Test receiving of messages by sending an SMS to your purchased Nexmo number. If the callback URL was correctly set, the message should appear in your FrontlineCloud inbox.
Related Actions