Groups are helpful to manage a large number of related contacts especially when sending and receiving SMS. For example, you may have a number of contacts who are farmers. You can add all these contacts to one group and select the group when sending out a message instead of selecting each contact individually.
Creating a Group
Step 1: On the People tab, click on the plus(+) sign next to the Groups heading. Enter a name for your group in the window that pops up.
Step 2: Click 'Create' to save the new group under 'Groups'.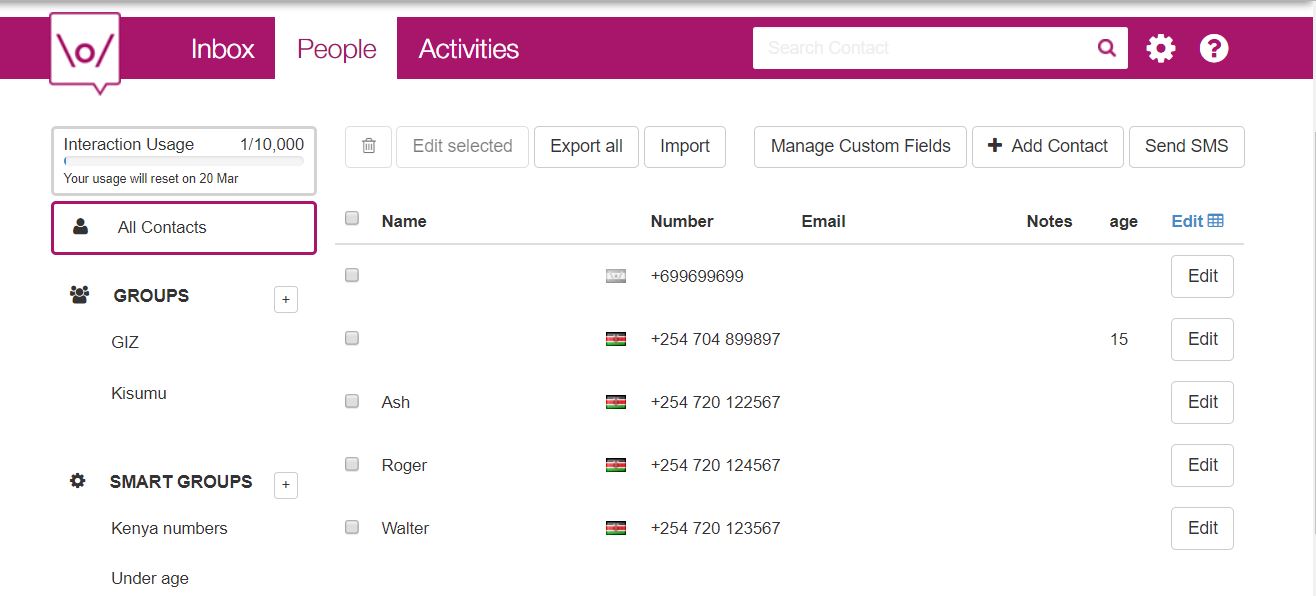 Editing and deleting a Group.
Click on the group that you want to edit or delete to view the group's details.

To edit the Group, click on the 'Edit Group' button. A pop window will appear such as the one on step 2 above. Make the changes and click update to save.
To Delete the Group, click on the 'Delete Group' button. A pop up window will appear, click on the 'Delete' button to confirm and you will get a notification upon successful deletion. Note that you cannot delete a group that is used within an Activity.
Adding Contacts to Groups
You can add individual contacts to a group when creating contacts. Under the section 'Groups' in the contact details form, select the group that you want to add a contact to.The drop down box is populated with groups that you have already created. This is the best method when you want to add contacts to different groups.
You can add bulk contacts to one group by selecting the contacts by the checkbox on the sub menu bar(above the contact list where you have Name, Number, Email and Notes). Next click on the 'Edit selected' button to open a popup window to select a group and the save.
You can assign a group to contacts automatically when importing them from a CSV file or Excel file (.xls or xlsx). First create the groups on your Frontline worskpace and then ensure that you add 'Group(s)' as a heading on the csv file or Excel file (.xls or xlsx). On the spreadsheet, list each group as you want them assigned next to each contact.
Removing Contacts from Groups
To remove an individual contact from a group, select the contact and click 'Edit selected'. This will open the contact edit window shown below. Click on the 'X' mark next to the group that you want to remove.
To remove bulk contacts from a group. Open the group and select all the contacts that you want to remove from the group. Next click 'edit selected' and then click the 'X' mark next to the group name and save.
Read about how to manage Smart Groups